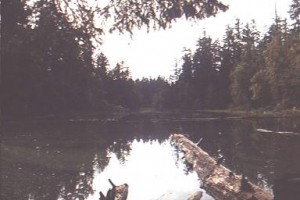 Lake Lois is situated near the Old Historic Lacey area. Lake Lois has a city park with picnic areas and fishing along the west side of the lake. Lake Lois is actually a shallow grass filled lake that acts as a spawning ground for salmon (or did at one time), and also as a natural filter for the run off. Woodland creek starts here continues on into the Puget Sound from here. Bald Eagles nest in this area and if you stick around long enough you'll probably see one checking out the lake for lunch!
Shore line of Lake Lois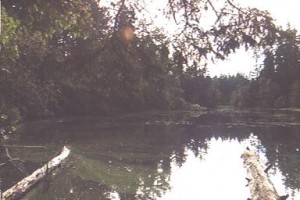 The area we will be covering is separate from the city park. It is located on the eastern side of the lake where the main body of water is. It is accessed via 6th Ave. off of Carpenter Road, or from Lake Lois Road off of Pacific Ave. There is a small dirt road opening with parking for about 4-5 cars, but would be noticeable by passing traffic. There is also an entrance off of 6th Ave. just past the brown house that is along the lake. It is blocked off with a wire cable and lock.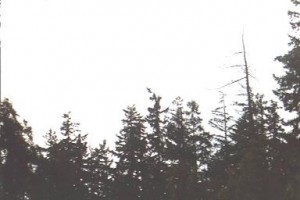 The cleared out area goes down at a slight angle and directly into the lake. The shoreline is only about 30 feet or so, and there is usually a lot of forest debris floating about so the fishing isn't all that great. The garbage and truck have finally been removed, as well as the log that was blocking the entrance. There is a trail system that you can walk around the lake if you are daring enough to walk the floating logs on the other side (I barely managed). Facing the lake, the trail to the left allows several access points to the lake of about 10ft shoreline each. There is also a couple areas for camping though there is an occupied house about 100 yards toward Pacific Avenue (yeah that old store is lived in). The right hand side trail follows the length of the lake and to the second body of water and ends at an old road entrance off of 6th Ave (mentioned above). Unfortunately a very large tree fell across the trail path near the beginning, it won't take long for people to trek around it, or someone to cut through it. More pictures coming very soon!
This spot is great for all day fishing, beer drinking, bong out sessions during the week. The road gets very little traffic nor does the property itself. There are several houses and a church within vicinity of the area so it would be wise to keep the noise levels down, especially at night.
New Pictures Never Published!
These are some photos I had uploaded but never published to the web page.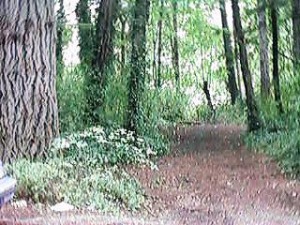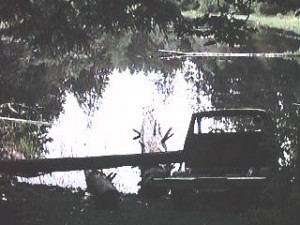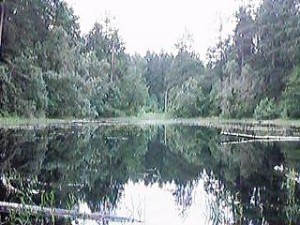 Short Video Clip Of Bon, Tammy and I at Lake Lois